Our professional technicians are all qualified and trained in everything from installing garage doors to repairing or replacing garage door springs. We specialize on springs of any brand. They are important parts of each door, and hence, must be in outstanding condition at all times. They, basically, balance the weight of the door and lift it to open and if they are broken, you will probably be stuck inside your garage. You should always call our professional expert team to repair or replace the damaged springs, even if you suspect a slight malfunctioning and you must never attempt to fix them on your own because you might get hurt.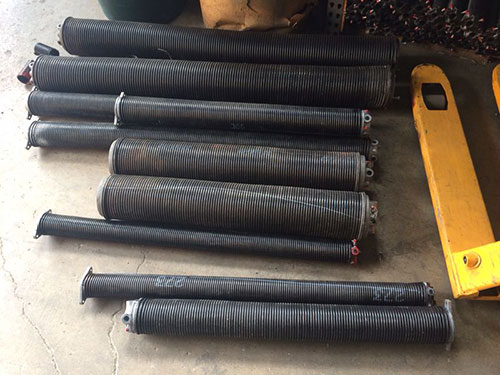 These springs get wound up really tight and if you are not trained on how to remove them safely, the springs can pop and injure you or even kill you. It is for a homeowner's safety that they call a professional to come out and do the repairs.
There are two different springs that are used on garage doors.
1. Extension Springs - These springs are used on lighter doors, tilt up garage doors or on sectional doors. They are easier to replace. This does not mean that it does not take skill. In case, you want to repair them yourself, you must follow carefully the instructions of the experts. They can cause injuries, if precautions are not taken.
2. Torsion Springs - These springs are used on heavier garage doors, usually, sectional doors. There will be a torsion spring on each side of the door. They are very dangerous to be replaced or repaired and must never be done by anyone less than a professional.
It does not matter which kind of springs your garage door uses, there are professionals who can repair and replace them for you. As soon as you notice that your springs are broken and need replacement, call our professionals in Sacramento, CA. We can get the job done for you safely; this way, you can be assured that the springs are installed correctly and safely and with no harm to you or anyone around you.